Please join us in Montreal  May 1-3
Quantec will be at the CIM
Come and meet  Rob Gordon P.Eng from the Quantec team.
Rob will be presenting a paper on May 3rd.    10:30 – 10:55
1634: Mapping near mine geology with advanced Geophysical technology
Authors: Roger Sharpe, Robert Hearst & Robert Gordon | Presenter: Robert Gordon
Find out why ORION 3D is the industry standard for deep accurate structural mapping and target delineation.
ORION 3D provides REAL 3D data acquisition which translates to REAL 3D data models.


Taseko Mines (TSX: TKO) announced on Tuesday that its Gibraltar mine produced 34.5 million lb of copper plus 600,000 lb of molybdenum in the third quarter of 2021, representing increases of 29% and 50%, respectively, over Q2 2021. Taseko is the 75% owner and operator of the open-pit copper-molybdenum mine, and production volumes are reported on a 100% basis. The Gibraltar mine, located in south-central British Columbia, is the second-largest open pit copper mine in Canada and the fourth-largest in North America, with a life of mine average annual production of 135 million lb copper.
Taseko is currently mobilizing a drill crew at Gibraltar to continue the site-wide exploration program that started in spring 2021. Quantec's deep-penetrating TITAN 160 geophysics survey has identified a number of anomalies outside Gibraltar's current resources, and the drill program is designed to test those areas with the eventual goal of increasing the company's resource base.
/
0 Comments
/
by Webmaster
http://quantecgeo.com/wp-content/uploads/2021/10/Taseko-gibraltar_mine_094-1024x683-1.jpg
683
1024
Webmaster
http://quantecgeo.com/wp-content/uploads/2017/02/qu1.png
Webmaster
2021-10-13 12:27:32
2021-10-13 12:30:43
Taseko Mines utilising Quantec's MINESITE imaging to seek new resources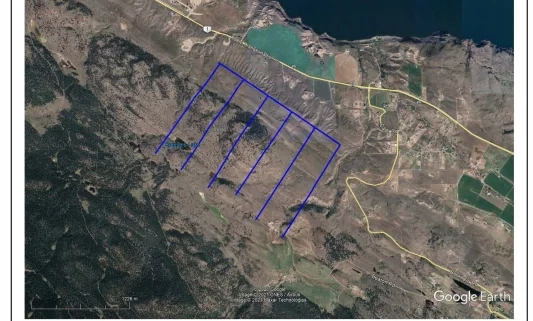 RECHARGE RESOURCES TO COMMENCE EXPLORATION AT BRUSSELS CREEK
Vancouver, B.C. Canada: September 7, 2021 – Recharge Resources (RR: TSX-V) ("Recharge" or the "Company") announces it has engaged Quantec Geoscience Limited to commence Phase 1 exploration at its Brussels Creek gold-copper-palladium property, located in the Kamloops Mining District, British Columbia (the "Property").Based on the Phase 1 exploration objectives, Quantec has designed a TITAN130 DCIP survey designed to provide high resolution resistivity and chargeability imaging consisting of 7 lines, using 400-meter spacing covering 10.8 Kms at the Property.
/
0 Comments
/
by Webmaster
http://quantecgeo.com/wp-content/uploads/2021/09/Brussels-creek-grid-map.webp
386
533
Webmaster
http://quantecgeo.com/wp-content/uploads/2017/02/qu1.png
Webmaster
2021-09-17 17:15:51
2021-09-17 17:18:30
TITAN 130 DCIP providing high resolution imaging at Brussels Creek

VANCOUVER, B.C., July 20, 2021 – Tectonic Metals Inc. (TECT: TSX-V; TETOF: OTCQB; T15B: FSE) (the "Company" or "Tectonic") today announced the commencement of a deep-penetrating TITAN-160 ("TITAN") ground-based Geophysical Survey (the "Survey") designed to specifically target multiple Pogo-like gold-in-soil anomalies situated on the Company's Tibbs Gold Project ("Tibbs"), located in Alaska's Goodpaster Mining District, 35 kilometres ("km") east of Northern Star Resources' Pogo Gold Mine. The Company engaged Quantec Geoscience Limited to carry out the Survey at Tibbs to transect the entirety of the structural corridor, which controls gold mineralization at the property. TITAN is a unique survey that employs two separate geophysical surveys: DC Resistivity and Induced Polarization ("DCIP") and Magnetotelluric ("MT") and provides DCIP resistivity and chargeability sections at depths of up to 750m, with MT collected to depths of 1,500m and greater.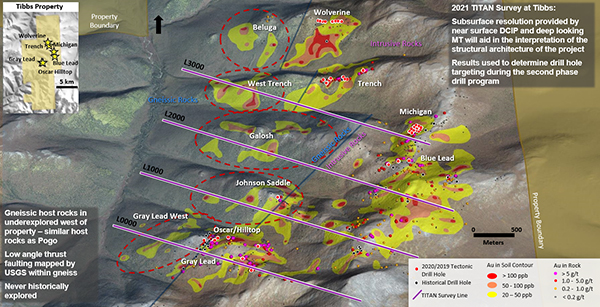 TITAN-160 Survey – Technical Details
Four TITAN lines 4,000m long and spaced approximately 1,000m apart are planned at Tibbs. Dipoles are spaced at 100m along each line, with MT sites spaced at 200m, to provide data coverage to significant depths (DCIP to approximately 750m depth; MT resistivity to approximately 4,000m depth). The Survey is expected to be completed in the latter half of July.
/
0 Comments
/
by Webmaster
http://quantecgeo.com/wp-content/uploads/2021/07/Tectonic-Titan-plan.jpg
698
1361
Webmaster
http://quantecgeo.com/wp-content/uploads/2017/02/qu1.png
Webmaster
2021-07-29 18:42:09
2021-07-29 18:51:10
Tectonic Commences Titan Geophysical Survey in Advance of Phase Two Drilling of Pogo-like Gold-in-soil Anomalies at the Tibbs Gold Project, Alaska