Please join us in Montreal  May 1-3
Quantec will be at the CIM
Come and meet  Rob Gordon P.Eng from the Quantec team.
Rob will be presenting a paper on May 3rd.    10:30 – 10:55
1634: Mapping near mine geology with advanced Geophysical technology
Authors: Roger Sharpe, Robert Hearst & Robert Gordon | Presenter: Robert Gordon
Find out why ORION 3D is the industry standard for deep accurate structural mapping and target delineation.
ORION 3D provides REAL 3D data acquisition which translates to REAL 3D data models.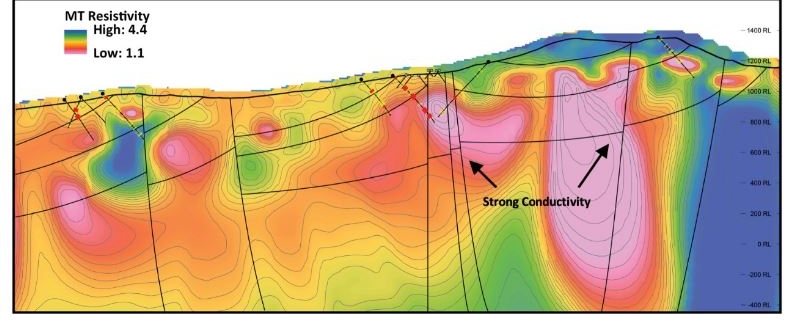 Geophysical imaging of the Healy property was achieved with deep-seeing Titan™ IP and MT surveys (induced polarization and magnetotellurics), transecting five kilometers across the three target areas where drilling was conducted. The surveys were carried out towards the end of the field season due to contractor availability. The IP and MT surveys, which imaged up to 800 meters and 4 kilometers depth respectively, support the presence of shallowly dipping, east-verging architecture with mineralisation occurring along low angle thrust faults and steeper cross-cutting fault corridors. Broad zones of disseminated sulfide and strong alteration are well-defined in the chargeability and resistivity data with zones of combined high chargeability and low resistivity (high conductivity) correlating well with mineralised intercepts from the 2021 drill program. The imaging of additional strongly conductive and chargeable zones, between drilled prospects, highlight significant exploration targets which warrant follow-up drill testing.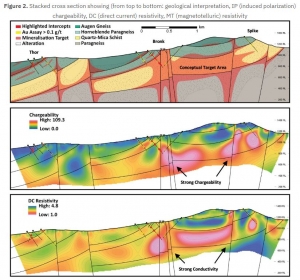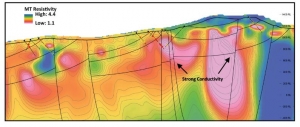 /
0 Comments
/
by Webmaster
http://quantecgeo.com/wp-content/uploads/2022/04/kenorland2.jpg
337
795
Webmaster
http://quantecgeo.com/wp-content/uploads/2017/02/qu1.png
Webmaster
2022-04-08 17:57:59
2022-04-08 17:58:17
Kenorland's Geophysical imaging at Healy property with TITAN Deep DCIP & MT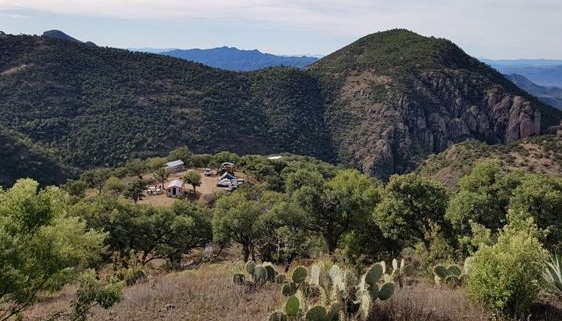 Quantec Geoscience Completes TITAN MT Deep-Penetrating Geophysical Survey at La Virginia
Drilling at Paredones zone is complete, with first results now received
Prospecting activities continue to advance La Colmena, north of El Rubi, and return encouraging surface samples ranging up to 8.31 g/t gold and 90 g/t silver from chip sampling at the southern extension of El Molino Zone
VANCOUVER, BC, April 8, 2022 /CNW/ – Silver Viper Minerals Corp. (the "Company" or "Silver Viper") (TSXV: VIPR) is pleased to provide an update on exploration activities within the La Virginia Silver-Gold Project, located in Sonora, Mexico. Exploration efforts since the release of Silver Viper's Maiden NI 43-101 gold-silver mineral resource estimate have continued to advance with exploration drilling at El Rubi and expansion of mapping and sampling coverage across the project area. Recent drilling has been performed at the Paredones Zone on the eastern structural/mineralized trend. Quantec Geoscience contractors have now completed data collection for a 31 line-kilometre Magnetotelluric geophysical survey covering approximately 610 hectares (1,500 acres). Final deliverables from the survey are expected in the coming weeks.
Silver Viper had engaged Quantec Geoscience to execute a TITAN-MT deep-penetrating geophysical survey centered on the El Rubi Deposit, Paredones and El Molino target areas. The survey is expected to greatly assist in targeting for deeper portions of the mineralized system. The TITAN Magnetotelluric ("MT") survey is capable of acquiring information from depths in excess of 1,500 metres below surface. In anticipation of the survey, drilling recently focused on probing of prospective mineralized structures and trends, most recently the Paredones area on the eastern trend sub-parallel to that hosting El Rubi.
Silver Viper's President and CEO Steve Cope states "Quantec has shared preliminary data from the first lines of the MT survey.  We expect the geophysics to help in refining drill testing of existing zones and to reveal new deeper unexposed targets. Once the data is processed, we anticipate identification of additional prospective targets, comparable in size to El Rubi. Preliminary data is already showing potential new targets that were previously unknown."
The exploration team has reviewed preliminary 2D imaging from the first of the MT survey lines and believe the method will be very effective at La Virginia. The company eagerly awaits final deliverables expected in the coming weeks.
Prospecting work continues along the El Rubi trend and the adjacent El Molino trend. Advances have been made at the La Colmena, Paredones and El Molino South prospect areas.  These early-stage prospects host outcroppings of silicified hydrothermal breccias and quartz veining, similar to breccias and veining seen in the El Rubi area. In addition to the geophysical survey, current work includes rock chip sampling and mapping.
/
0 Comments
/
by Webmaster
http://quantecgeo.com/wp-content/uploads/2022/04/silver-viper.jpg
333
562
Webmaster
http://quantecgeo.com/wp-content/uploads/2017/02/qu1.png
Webmaster
2022-04-08 17:32:29
2022-04-08 17:48:57
Silver Viper Minerals Runs TITAN - MT Deep Geophysics Survey at La Virginia

Calgary, Alberta–(Newsfile Corp. – February 1, 2022) – Copper Fox Metals Inc. (TSXV: CUU) (OTCQX: CPFXF) ("Copper Fox" or the "Company") through its wholly owned subsidiary Northern Fox Copper Inc. is pleased to provide the results of the ORION Swath DCIP survey ("ORION Survey") and the details of a mineral tenure exchange on its 100% owned Eaglehead polymetallic porphyry copper project located approximately 50 kilometers ('km') east of Dease Lake, British Columbia. The Eaglehead project covers a large portion (15,712.9 ha) of the late Jurassic age, Eaglehead stock located at the southern margin of the Quesnel terrane.
A 2,500 meter ('m') long by 1,200m wide, northerly dipping positive chargeability (>10mrads) has been located on the northern flank of one of the intrusive centers identified by the Magnetic Vector Inversion study. The chargeability anomaly is open to the east and to the west.
The chargeability anomaly underlies a coincident 3,000m by 2,000m area of copper mineralization exposed in outcrop/subcrop and Cu-Mo in soil geochemical anomaly.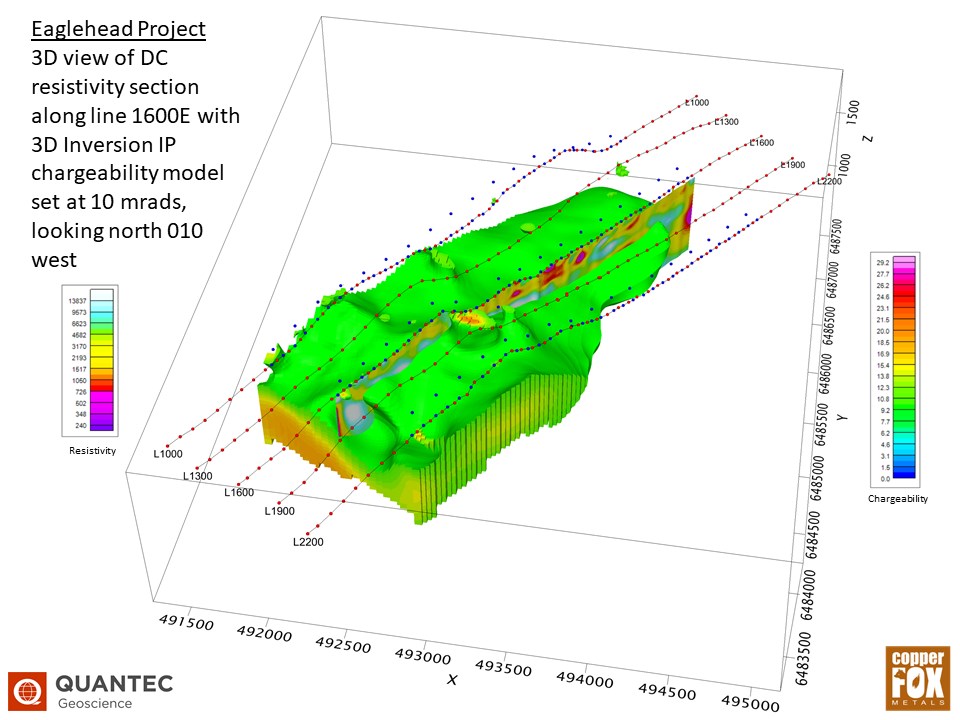 /
0 Comments
/
by Webmaster
http://quantecgeo.com/wp-content/uploads/2022/02/Copperfox-ORION-2022.jpg
720
960
Webmaster
http://quantecgeo.com/wp-content/uploads/2017/02/qu1.png
Webmaster
2022-02-09 16:16:06
2022-02-09 16:16:06
Copper Fox Identifies Large Chargeability Anomaly on Eaglehead Project