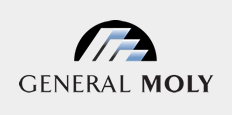 General Moly to Explore for Copper, Silver and Zinc at Mt. Hope Project
– Historical Drill Intercepts Indicate Potential For High-Grade, Copper-Silver Target
– New Results from Geophysical Survey Highlight Anomalies for Follow-Up Drilling
LAKEWOOD, Colo., March 1, 2018 /PRNewswire/ — General Moly, Inc. (the "Company" or "General Moly") (NYSE American and TSX: GMO), the only western-exchange listed, pure play molybdenum development company, reports that based on a review of historic drill results, the Company has identified a potential high-grade, copper-silver exploration target along with a significant zinc mineralized area at the Mt. Hope Projectsite, southeast of the Mt. Hope's molybdenum deposit in central Nevada.
Given the presence of this copper-silver target ("Cu-Ag Target") and zinc mineralization, General Molyundertook a high-intensity, ground-based Induced Polarization ("IP") survey to determine if potential continuity and the size of the mineralization would justify additional exploration and evaluation. The IP survey was completed in February 2018 by Quantec Geoscience and indicates a fairly continuous group of high chargeability anomalies that appear aligned with the recently identified Cu-Ag Target.
These anomalies lie between 100 feet and 1,000-plus feet from the surface and trend northeast for over 1,000 feet. The IP survey indicates that the anomalies could continue further to the north-northeast and to the south where they appear to dip to the east.
Ground IP Survey Results Highlights
The IP survey, which focused on the Cu-Ag Target, comprised six lines each of a 2,400-foot length with 2 lines running SW to NE (lines 1 and 6) and 4 lines (lines 4, 3, 2 and 5) running SE to NW and perpendicular to lines 1 and 6.
The survey found an anomalous high chargeability zone located at between 100 to 1,000 feet of depth with thicknesses between 200 and 800 feet, up to 1,000 feet of width and measuring over 1,000 feet trending north-northeast. (Please refer to the cross section of Line 3 shown below and to Appendix Illustration 2. High chargeability is indicated by the orange, red and pink colors.)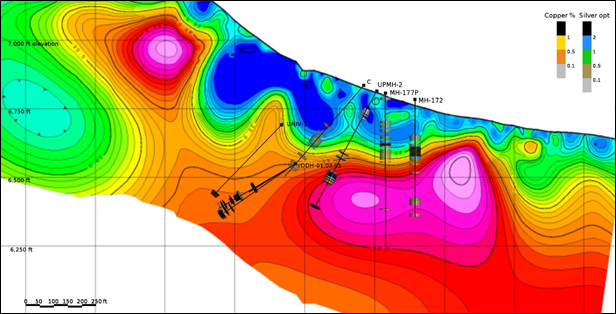 In addition, results from all the IP lines indicate that the anomalous zone remains open at depth. Parallel IP lines 1 and 6 also indicate that the anomalous zone appears to trend to the northeast dipping towards the southwest, remaining open.  Based on the IP results and historic drilling data, the Cu-Ag Target appears to lie at a 40-degree angle down dip.
https://quantecgeo.com/wp-content/uploads/2018/03/moly-logo.png
115
232
Webmaster
http://quantecgeo.com/wp-content/uploads/2023/03/Quantec-Official-2017-Logo-clear-Horizontal.png
Webmaster
2018-03-01 17:28:37
2018-03-19 17:42:04
General Moly announces follow-up targetting