Quantec's QHSE commitment
Quantec's Data Quality
Reliable and Accurate results depend on one thing – excellent data.  This requires attention to detail. Quantec delivers survey results to clients using a strict QA/QC process whereby data is checked and verified by geophysicists to decrease the risk of errors and to provide the highest quality data. Our advanced system specifications allow for rapid data sampling and data redundancy that helps insure accuracy and repeatability of data.
Quantec is committed to the acquisition of high quality data. We seek to provide the highest quality data possible. Quantec maintains highest quality standards throughout the acquisition, processing and interpretation of our data. We achieve quality control and quality assurance targets by ever evolving procedures designed to promote continuous improvement. All members of Quantec are responsible for quality control and quality assurance.
Quantec manages data quality through ingrained procedures which are implemented during acquisition, processing and interpretation and include;
Pre-survey testing and calibration of geophysical sensors and equipment
Survey protocols for varied survey environments to ensure quality data
Data management systems to ensure integrity and security of the collected data
Data processing protocols to ensure consistency in the utility of the data for exploration
Professional Geophysicists and Geoscientists overseeing the handling, processing and interpretation of the collected data
All instrumentation prior to deployment is calibrated and tested for proper operation at the Quantec equipment facility. Quantec has its own repair facilities as well as ample supply of back-up equipment should a problem arise.
Health and Safety
Quantec Geoscience is committed to conducting its surveys in a healthy, safe, secure and environmentally responsible manner, respecting the people and cultures it interacts with and dedicates the necessary resources towards achieving this. In fulfilling this commitment, management provides and maintains a safe and healthy work environment, in accordance with industry best practices and in compliance with legislative requirements. All levels of management/supervisors are considered responsible and accountable for providing and maintaining a safe work environment through active leadership and implementation.
Quantec is a member of the GGSSA.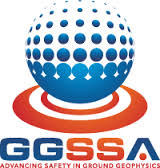 Quantec is a member in good standing with GGSSA. This allows Quantec to track and improve its HSE performance, and provide customers with clear, standardized HSE information. This results in lower incident rates and higher compliance numbers.
 Culture of Safety
A positive company-wide HSE attitude at Quantec is fostered by:
• A strong commitment to HSE values by senior management.
• A philosophy aimed at achieving continuous HSE improvement.
• An HSE structure that promotes accurate field reporting.
• A culture that respects and values the well-being of the people and the environments involved in our work.
Work-site Health and Safety at Quantec:
PPE
Quantec crews use appropriate Personal Protective Equipment (PPE) on all jobs. As part of every pre-project risk assessment, health & safety risks are identified, and the appropriate PPE is chosen. Proper use and maintenance is ensured on site through the daily safety meetings, and HSE audits. Quantec's global experience and safe work practices combine to ensure industry leading low incident rates.
Pre-project risk assessment
A key component of Quantec's HSE system is the pre-project risk assessment. In order to minimize the risk of HSE incidents, we research all possible project risks, and design and implement an HSE plan incorporating PPE's, SOP's, emergency protocols, and of course each client's specific requirements in cases where those differ from Quantec's standard HSE procedures.
Daily Safety Meetings (DSM)
Once on site, daily safety meetings are held, to ensure the entire HSE plan is being followed, and to deal with all ongoing issues, including near miss and incident reports, and client concerns, if any.
Joint Health & Safety Committee (JHSC)
The role of the JHSC is to provide continuous HSE oversight in terms of monitoring and updating the HSE system, tracking HSE performance and continuously taking steps to improve the HSE system based on actual performance.
Training
Quantec ensures that all employees receive appropriate and relevant training, and that this training and associated certifications are all up to date.
Environment
Quantec values the environments we work in, regardless of where these are on the globe. Quantec's geophysical surveys are conducted with safety in mind and with minimal environmental impact.  Our philosophy is to minimise the impact we have, and to the best of our abilities leave survey areas in the same condition as when we entered. This involves not only the obvious, but also means taking care not to affect flora and fauna and showing respect for local human customs and values.
Man-portable equipment is used whenever possible to minimize our ecological footprint, even in rugged and remote terrains. Geophysical surveys are also conducted using environmentally responsible electrode technologies.  Unlike many pot electrodes, our stable steel plate electrodes do not contain toxic chemicals.  Tests have demonstrated that stable steel plate electrodes are as good as or better than pot electrodes at high and low frequencies in a variety of environments.
Quantec's QHSE policies are available on request.