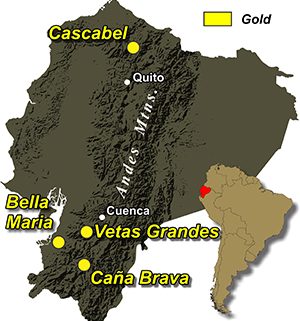 HIGHLIGHTS:
Ground magnetic survey results over Cascabel concession reveal exciting targets.
Exceptionally high-quality product produced from 650km of total field data acquired at line spacing of 50m.
The planned Spartan-Orion hybrid induced polarisation survey will enable the direct detection and modelling of sulphides in 3D to in excess of 3km.  This survey can be combined with existing drill-hole logs to construct improved 3D constrained geographical models.
The increased sensitivity of the Spartan-Orion hybrid survey will allow for the production of improved structural and geological rock-type and mineralization maps. 
Read full press release…
https://quantecgeo.com/wp-content/uploads/2017/06/Properties_Ecuador_OverviewThumb.jpg
328
300
Webmaster #2
http://quantecgeo.com/wp-content/uploads/2023/03/Quantec-Official-2017-Logo-clear-Horizontal.png
Webmaster #2
2017-06-22 13:02:59
2017-06-22 13:08:44
Cornerstone Resources reports... Quantec continues to help at Cascabel