Argentina Lithium Announces Positive Results from Third and Fourth Drill Holes at Rincon West
Vancouver, BC / CNW / October 25, 2022 / Argentina Lithium & Energy Corp. (TSX-V: LIT, FSE: OAY3, OTC: PNXLF), ("Argentina Lithium" or the "Company") reports positive lithium brine values from the third and fourth diamond drill holes at its Rincon West Project in Salta Province, Argentina. The Rincon West project covers 3742.8 hectares of the salar basin, located west and north of the adjacent Rincon Project owned by Rio Tinto. The property is currently permitted for up to 9 exploration drill holes. The fifth exploration hole is currently in final steps to completion. From May 2022 ….
"The TEM surveys suggest that interpreted brine aquifers extend substantially further west and south than indicated by earlier electrical surveys, demonstrating greater potential than expected by the previous owners. We plan to begin drilling in May to test these targets. These new geophysical data allow us to assess potential aquifer quality and depth prior to drilling, which is extremely advantageous for targeting." stated Miles Rideout, V.P. of Exploration.
The TEM surveys, data modeling and presentation were completed by the Argentinean subsidiary of Toronto-based Quantec Geoscience Ltd., ("Quantec"). Quantec is a recognized leader in the industry, with experience spanning over 40 countries with over 5,000 geophysical projects. Quantec has considerable experience in the provision of qeophysical services for the evaluation of salars in the Puna Region of Argentina.
A total of 190 soundings were completed at 200 metre intervals along six east-west lines and two transecting lines, with a north-south line spacing of between 1400 and 1900 metres (see Figure 1). Data were acquired with a Geonics Ltd. PROTEM System operated in centre-loop sounding mode with 200m transmitter loops. The sounding data were recorded at 2.5 and 25 Hz. repetition rates. The data were modelled with 1-D resistivity-depth inversions, which were compiled as 2D resistivity transects of the project. The maximum depth of investigation varied from 200 metres to as much as 1700 metres below surface.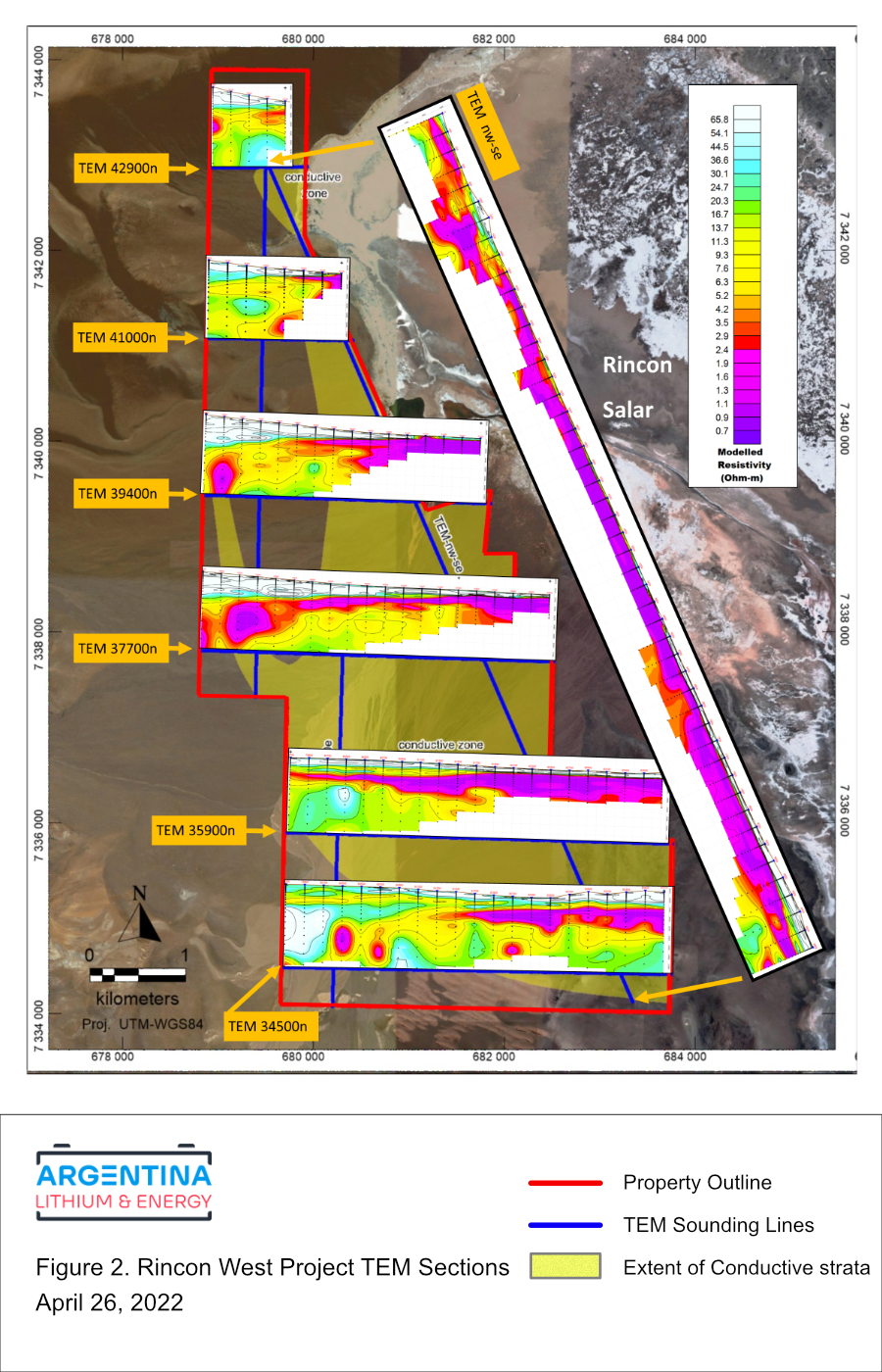 https://quantecgeo.com/wp-content/uploads/2022/10/figure_2_nr042622.png
1400
900
Webmaster
http://quantecgeo.com/wp-content/uploads/2023/03/Quantec-Official-2017-Logo-clear-Horizontal.png
Webmaster
2022-10-25 20:38:12
2022-10-25 20:41:34
Argentina Lithium & Energy