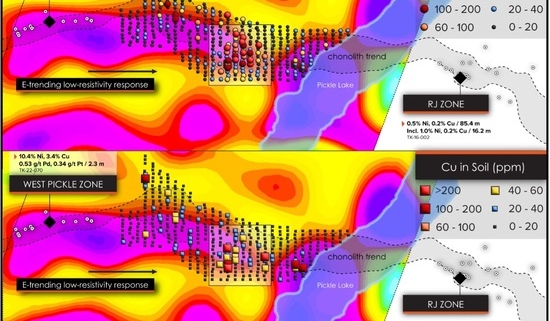 October 30, 2023 – Toronto, Ontario – Palladium One Mining Inc. (TSX-V: PDM, OTCQB: NKORF, FRA: 7N11) (the "Company" or "Palladium One") is pleased to announce it has discovered a large MT resistivity anomaly on the Tyko I property (Figure 1 and 2) which forms part of the larger Tyko Nickel – Copper Project, in Ontario, Canada. The MT resistivity anomaly is coincident with the high-grade West Pickle Zone and extends eastward toward the RJ Zone suggesting that they form one continuous mineralizing system.
Highlights
2023 diamond drill program is underway at Tyko
A 1,600 meter long MT resistivity anomaly has been discovered which extends from the high-grade West Pickle Zone toward the interpreted Chonolith / Feeder Dyke structure
MT Anomaly coincident with multiple Cu and Ni in soil anomalies
Mag, MT and soil anomalies suggest West Pickle and RJ Zones form part of one large mineralizing system
President and CEO, Derrick Weyrauch commented, "We are very pleased to announce positive results from the first MT survey on the Tyko Project that indicate a strong MT resistivity anomaly extending from our high-grade West Pickle zone toward multiple copper and nickel in-soil anomalies associated with the interpreted Chonolith / Feeder Dyke target. Tyko's fall diamond drill program has commenced and is currently on track."
The MT survey represents the first deep penetrating geophysical survey to be conducted on Tyko. The survey was undertaken by Quantec Geoscience using the SPARTAN MT system which has the potential to detect both high-grade massive nickel sulphide, as that found at the West Pickle zone, and blebby to disseminated sulphide as found at the RJ zone. The MT survey targeted a highly prospective strike length of 2,800 meters (Figure 2) between the West Pickle and RJ Zones covering several highly anomalous Cu and Ni soil anomalies and associated magnetic highs (see press release August 22, 2023).
http://quantecgeo.com/wp-content/uploads/2023/11/Paladium-One-MT-oct-23.jpg
425
550
Webmaster
http://quantecgeo.com/wp-content/uploads/2023/03/Quantec-Official-2017-Logo-clear-Horizontal.png
Webmaster
2023-11-01 13:50:09
2023-11-01 15:02:43
Palladium One Outlines MagnetoTelluric "MT" anomaly at West Pickle, Drill Program Underway on Tyko Ni - Cu Project