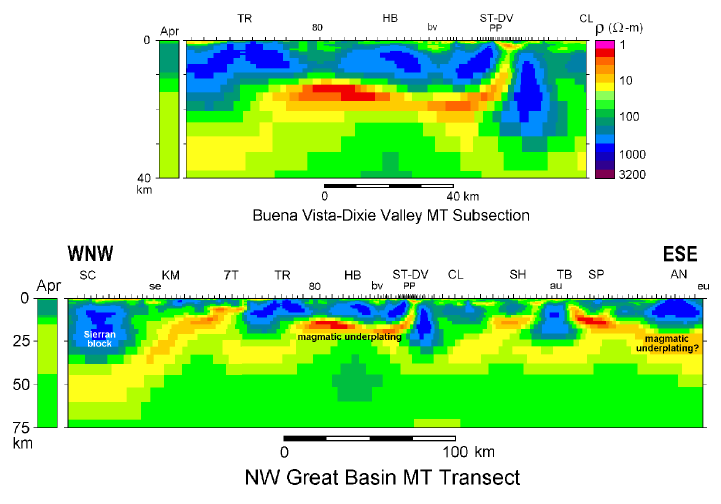 Title: Geothermal exploration
Geology: Basin and Range
Client: US Dept. of Energy/ University of Utah
Technology: SPARTAN MT
Location: Western Nevada
Sector: Mining
Challenges
In order to better understand the deep geology driving hydrothermal activity in the area,  deep terrain scale mapping was required.
Solutions
Magnetotelluric (MT) profiling in northwestern Nevada was used to test hypotheses on the main sources of heat and hydrothermal fluid for the Dixie Valley-Central Nevada Seismic Belt area. The MT transect of ~140 soundings was centered on Dixie Valley and oriented WNW-ESE approximately normal to the average trend of horst-graben morphology from the California border in the Smoke Creek area to near the town of Eureka in central Nevada. In the Dixie Valley area, the line passes through Cottonwood Canyon and the power producing area.
Highlights
The transect revealed families of resistivity structures commonly dominated by steeply-dipping features, some of which may be of key geothermal significance. Most notably, 2-D inversion of these data has resolved a high-angle, conductive fault zone-like structure extending from the base of Dixie Valley to a broad, deep crustal conductor beneath  the Stillwater-Humboldt Range area. The deep conductor is coincident with the Buena Vista anomalous seismic area, and such conductors are generally correlated with magmatic underplating and fluid exsolution.
Ref. Wannamaker, Hasterok, Doerner., Possible Magmatic Input to the Dixie Valley Geothermal Field